By Art Martens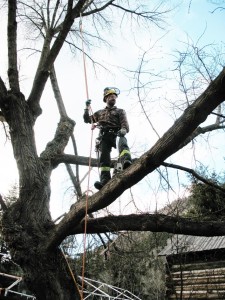 This past Saturday and Sunday morning, while many local citizens
were sleeping in or having breakfast, Travis Barck was already clambering about in a tree high above the ground. Hedley's premiere arborist, he had been contracted to tidy up the massive trees alongside and behind the Hedley Historical Museum. It was a major job but as usual, he appeared confident as a bald eagle perched on a high mountain outcropping.
"This is a Box Elder," he said,
"sometimes it's also called a Manitoba Maple. It's the biggest one I've ever worked on. At least 3 feet in diameter." The main impetus for having the trees pruned was a neighbour's complaint that branches of a tree on one side of the property were touching his roof and leaves were making a mess on his driveway.
"It really was time to give all the trees a pruning," Travis said. "The winter storms broke branches and some were hanging up in the trees. It was dangerous."
"They probably have not been pruned in many years," he explained. "In the past the Box Elder has been topped. This can cause decay. It wasn't real bad on this tree, but some has set in." The other large tree behind the Museum is a Norway Maple.
Travis is a U.S. citizen with permanent resident status in Canada. He is applying to be a dual citizen.
Although only 36, he comes with an impressive array of experience and training. He began his horticultural career in 2000, working at the illustrious Las Vegas Springs Preserve, then obtained a BA from Cornell University in 2004. In 2006 he worked at the Morris Arboretum, one of the most renowned tree museums in the world. He moved to BC in 2007. Until he came to Hedley about 3 years ago, he worked for Bartlett Tree Experts. In his day job he is a Utility Operator with Public Works in Princeton. Due to the winter storms, he has plenty of work to do there.
Locally he's been seen silhouetted high against the sky, 80-90 feet above ground, trimming Douglas Firs. His artistry with a chain saw is helping tidy up and beautify the town.
The post Hedley Arborist Gets High, Naturally appeared first on Living Significantly.
Source:: Living Significantly