By Art Martens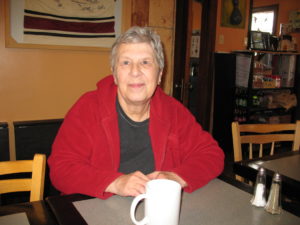 Successful restauranteur Barbara Bushewsky ranks high on my personal list of "come back kids." Abandoned and adopted at infancy, she never met her birth mother. Her adoptive parents often told her she was different. "I was left alone a lot as a child," she said. "My self-esteem was very low." As an adult she experienced marriage breakup and was hospitalized for an extended period after a severe beating by an employee. She has also done battle with cancer twice.
Sitting at a table in a back room of her restaurant and drinking delicious, high quality coffee, it occurred to me that this congenial, spunky woman could have been a candidate for heartache and failure. Listening to her story, I began to understand that one secret of her success is that she will not give up. She seems to have a psychological backbone of steel.
"Living on a Kibbutz in Israel for almost a year made a real difference in my life," she said. "It was foundational. I met young people from all over the world. We lived together, ate together, and worked together. We also experienced danger together. Because it was the last stop on the bus route in the Negev, we were close to Gaza. One day the bus driver had just closed the door when we were shot at. The Kibbutz helped me understand about being part of a community and making a contribution."
Her initial work assignment on the Kibbutz was picking fruit. "I was young and somewhat of a trouble maker," she admitted. "They placed me in the kitchen and I enjoyed that. I had always done well in home economics in school. We were required to learn Hebrew so I attended classes in the afternoons. I left the Kibbutz with an Englishman and accompanied him to London where I worked as a key punch operator. We got married and had a daughter. She died shortly after birth. The marriage survived only a few years."
Barbara returned to Canada and again worked as a key punch operator. While in London she had taken courses, and in Edmonton she continued. Over the years she earned certificates, diplomas and a degree. Her second marriage was to a man who had recently arrived from Greece. He didn't speak English but she had learned some Greek. "I had a daughter and son with him, but the marriage didn't last."
Barbara moved to B.C. and bought a small pizza outlet in Osoyoos. She did necessary renovations including installing a new floor. She sold the business and purchased the present building in downtown Princeton.
One of her staff must have thought Barbara would make a great step mother. She said, "You should go on a date with my dad." Barbara had already met the dad through involvement in a music group. Corry plays the trumpet and other instruments. The relationship flourished and they have been together 9 years.
Barbara and Corry now own and operate 2 Cowboy Coffee outlets in Princeton. She manages the downtown cafe. Upon entering it, Linda and I immediately sensed a pleasant calm. "I encourage my staff to welcome people when they come in," she said. "It's important to show an interest. I ask them where they are from. If they're new in the community, I offer to help them get involved."
Barbara's demeanor exudes energy and friendliness. She takes her positive outlook into the community. "I want to do my part to keep this community together. I'm secretary for the Chamber of Commerce. I'm also active in a couple of seniors groups. When there is an event, I'm often in the kitchen at the sink, washing dishes."
At the end of an hour, our conversation returned to the restaurant enterprise. "It's been tough," she said. " My day starts at 4:15 am, when quite a few mine and mill workers come in. Things slow down in winter so we need to put something away in summer. I try not to lay off my staff."
Considering the various challenges Barbara has experienced over the years, how does she survive and thrive? "I try not to dwell on problems. I also try to make tomorrow better. I want my mind to be in a good space." I was impressed by her energy, love for people, and zest for life. She is indeed a "come back kid."
The post Proprietor Of Princeton's Cowboy Coffee appeared first on Living Significantly.
Source:: Living Significantly