By Art Martens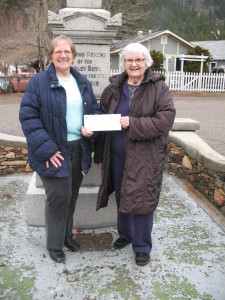 Peggy Terry retired from the RBC on June 30, 1999. Last
week the bank sent her a $500 cheque for the Hedley Cenotaph Renewal Project.
The money came out of a fund current and former employees can apply to on behalf of a charitable organization in their community. Those making such a request must be actively volunteering in their community.
Peggy began working for RBC several years after completing grade 10. She started as a teller at the Main and 25th branch in Vancouver. From there she transferred to several other cities, including Richmond and Duncan. After receiving training in finance and administration at UBC, in 1975 she was assigned to the Visa Centre in Vancouver. Here she gained a breadth of experience in such departments as Collections, Security, Customer Service Audits and Bankruptcies. In time she was elevated to the position of Supervisor of Authorization.
Prior to her retirement, Peggy and her husband Bill, now deceased, searched widely throughout the Okanagan Valley, looking for a home in an area where it was quiet and he could fish. They bought a home just outside Hedley and moved in the day after she retired.
Peggy came to Hedley with much needed organizing capability, a will to get things done, and plenty of energy. She also had experience in volunteering, having begun as a member of the Legion Teen Auxiliary at age 15. Later she organized a Big Brothers bowling fund raiser each year . As a member of the Variety Club, she persuaded the organization to advertise the availability of Visa and MasterCard for donation purposes. This boosted the group's income.
It was Mitzie Helmstead, now living in Princeton, who persuaded me to join the Museum Society," she said. "Then the president, Harry Alton, also now in Princeton, talked me into becoming a Director."
She joined the OAPO and when the local group decided to break away from the parent organization and become the Hedley Seniors' Centre, she did the considerable paperwork to make this happen. Presently she is serving as Treasurer. She is also a board member and Treasurer at the Hedley Grace Church.
"I worked with a lot of good people at RBC. Now in my volunteer roles, I am again meeting many wonderful people," she said. "I enjoy having these people around me."
The post RBC Donates to Hedley Cenotaph Fund appeared first on Living Significantly.
Source:: Living Significantly