By Art Martens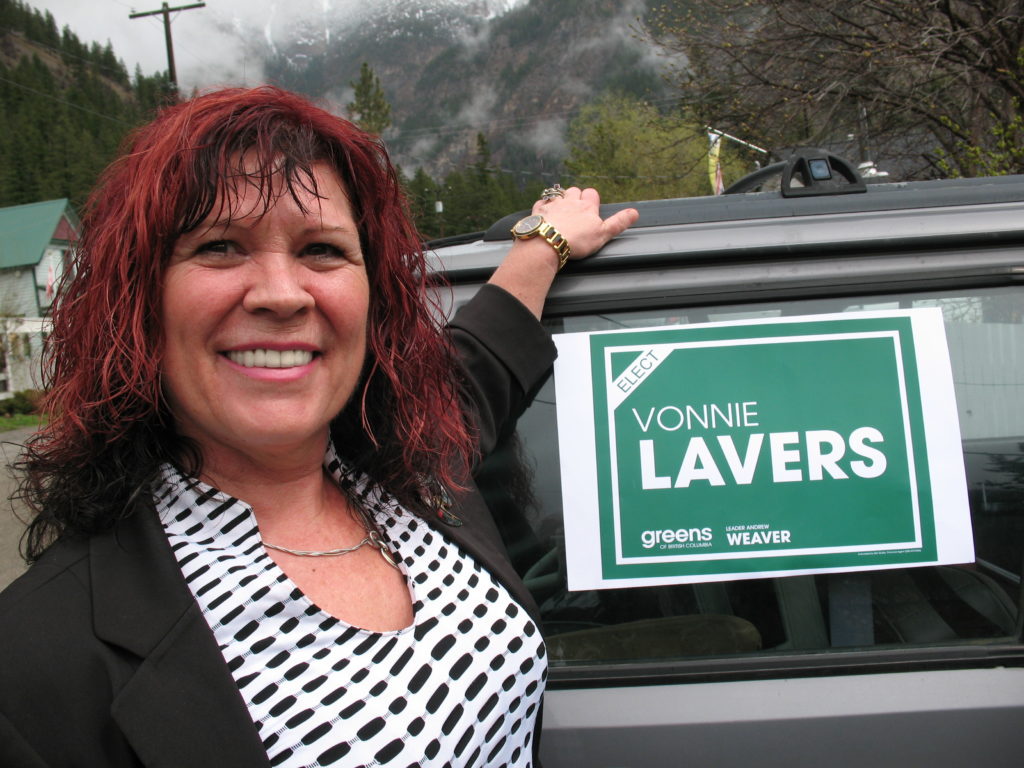 When Green Party candidate Vonnie Lavers said she once worked as an executive assistant to the president of Syncrude Canada, I needed to mentally pause. This didn't align easily with my perception of her party. Aren't Green and Syncrude as incompatible as oil and water?
In a wide ranging conversation in the sun room of our home in Hedley, Vonnie talked freely about her life, beginning with the early years in Port Saunders, a small community in Newfoundland. We would learn that although she is committed to the preservation of our environment, life experience has alerted her to a variety of additional societal challenges. "We lived in poverty the first 8 years of my life," she said in answer to my question. "I was the second oldest of 8 children. My parents are Metis and I'm also Metis. I did housework, picked berries, helped bake fruit pies, cleaned fish. We ate moose, bear, rabbits, fish, plants and berries." Her early experiences gave her an appreciation for the role a healthy environment plays in sustaining all life. "We need to think about the future of our children."
We began to see Vonnie's grit and capacity to be proactive when she spoke of her time in a trades and technology college after high school. "I received a phone call from my parents one day," she recalled. "They said I'd have to quit my studies. There wasn't money to pay the $35 a week room and board. I had worked and had enough hours for EI, but being in school made me ineligible."
She reflected for a moment, then smiled. "I sat on the doorstep of MP John Crosbie's office 3 days. I guess he decided I wasn't going away so he invited me in. After hearing me out, he arranged for me and other students to collect EI. That took away a lot of anxiety."
After completing her courses, she managed a summer government work project. When she overheard 2 men talking about opportunities in Fort McMurray, she told her mother she'd like to go there to work. The response was, "we'll have to see what Dad says." Undeterred, Vonnie replied, "you'd better persuade him because I'm going."
The move to Alberta would be important in her education outside the classroom. She would grow further in her understanding of the complex issues every society must contend with.
In Fort McMurray her college training and work experience persuaded John Lynn, president of Syncrude, to hire her as an assistant. During these years she witnessed the prospering of Syncrude when oil prices rose, and also the difficult times when prices declined sharply. She recalls seeing a bumper sticker saying, "please God, let there be another boom. I promise not to pee it away this time."
The years at Syncrude gave her an understanding of the role natural resources play in providing good jobs. Extensive travel and reading alerted her to the need to ensure our environment is not overly exploited. "Even the Saudis are diversifying, moving into renewable energy. We need to allocate more funds for research and the development of alternative sources. There are good job and business prospects in this."
She's still enthusiastic about an opportunity she was given at Syncrude to make a positive contribution outside the corporate offices. A committee she chaired donated $3 million annually, primarily to child related programs and the arts.
Growing up with 6 sisters and a brother gave Vonnie a keen appreciation for family. "Our entire society is based on family," she observed. "It's important we sit down together for supper. We also need to be connected outside the family. We can't just be taking all the time. We have to give back. Family and friends support us in the valleys of life."
The president of Syncrude became her mentor and encouraged her to prepare for further accomplishments. At age 28 she enrolled in Mount Royal College in Alberta. Since then work, community involvements and business ventures have broadened her perspective. She can speak knowledgeably about Portugal's response to drug and mental health issues, depletion of wild life in Zimbabwe or an apartment building in New York where at Thanksgiving the tenants come together around long tables in the hallway for a potluck meal.
Vonnie has an offer on her Kelowna home and plans to move to the Boundary/Similkameen constituency. This Green candidate is about much more than just the environment.
The post Vonnie Lavers, Green Party Candidate appeared first on Living Significantly.
Source:: Living Significantly