By Art Martens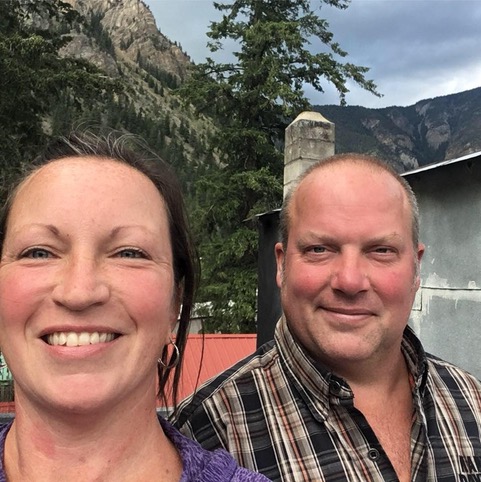 When science fiction writer Ray Bradley said, "first you jump off the cliff, then you develop wings on the way down," he could have had Trisha Mills and Bill Carmichael in mind. For them, purchasing the Hitching Post restaurant in Hedley last June marked the end of one chapter of their lives and the beginning of a new, unexpectedly uncertain one. The iconic restaurant burned to the ground one night and they had to jump from the second floor into a void of smoke and darkness. In two extended phone conversations with Bill and Trisha, Linda and I had an opportunity to look into their past and also explore the impact of the fire on their health, thinking, and future plans.
"We met online," Trisha told us at the outset. "We were both looking for people who enjoy outdoor activities, When we connected, it was as friends initially. Our relationship really came together 8 years ago."
Bill grew up on the family's 100 acre ranch near Darfield, a tiny community about 50 miles north of Kamloops. "My Dad worked away a lot," he said. "I helped with tending our chickens, sheep and cattle, including at birthing time. I also fixed and moved sprinklers on the hay field. At age 12 I studied a book on welding and went out to my Dad's shop and learned to weld. On the side I fixed bicycles and lawnmowers. Even at that age I enjoyed reading technical manuals or the Princess Auto catalogue."
He went on to take a motorcycle mechanics course, and subsequently attended BCIT where he became a millwright. Lafarge Canada hired him and assigned him to its Kamloops maintenance crew. In time, the company made him a maintenance and planning inspector. In this position, he travelled to Lafarge plants in other countries.
Trisha's stepfather became ill and died when she was 9. "It was a trying time for Mom," she recalled "We moved a lot and I needed to become more independent. Moving from Vancouver to Vancouver Island was a culture shock. Since then I've mostly lived in small communities." She went on to run a restaurant. Then, wanting to be at home with her 2 children, she operated a licensed daycare for 10 years. Five years ago, after attaining a certificate in office administration at the Thompson Rivers University, she began forging a new career with a security company.
In 2014, Bill's motorcycle accident brought radical change. "I was travelling at 100 kmh when a buck with 6 inch spikes came up from the river. I caught the deer in my chest and its face was in my face. I was able to park the bike without crashing it, probably because I'm pretty stubborn." His left arm was shattered and his heart stopped, but he remained alive.
The injury ended his career as a millwright and they needed a new plan. Bill attended courses offered by Community Futures in Penticton. When Viktoria Braat of Hedley told them The Hitching Post restaurant was for sale, they investigated its potential and made the decision to buy it.
As has been extensively reported in the media, four months later at about 2 am on October 23rd of last year, a raging fire engulfed the restaurant. By leaping into the smoke and darkness they saved their lives, but sustained serious injuries.
Now in Kamloops for medical attention and therapy, they are both still largely dependent on wheelchairs for mobility. Bill is able to walk limited distances with crutches and looks forward to using the walking stick he has carved. Trisha's injuries are more complex. She uses a walker for balance and physio. Her open wounds are healing. The extent of nerve damage to her back will be assessed at the end of the month.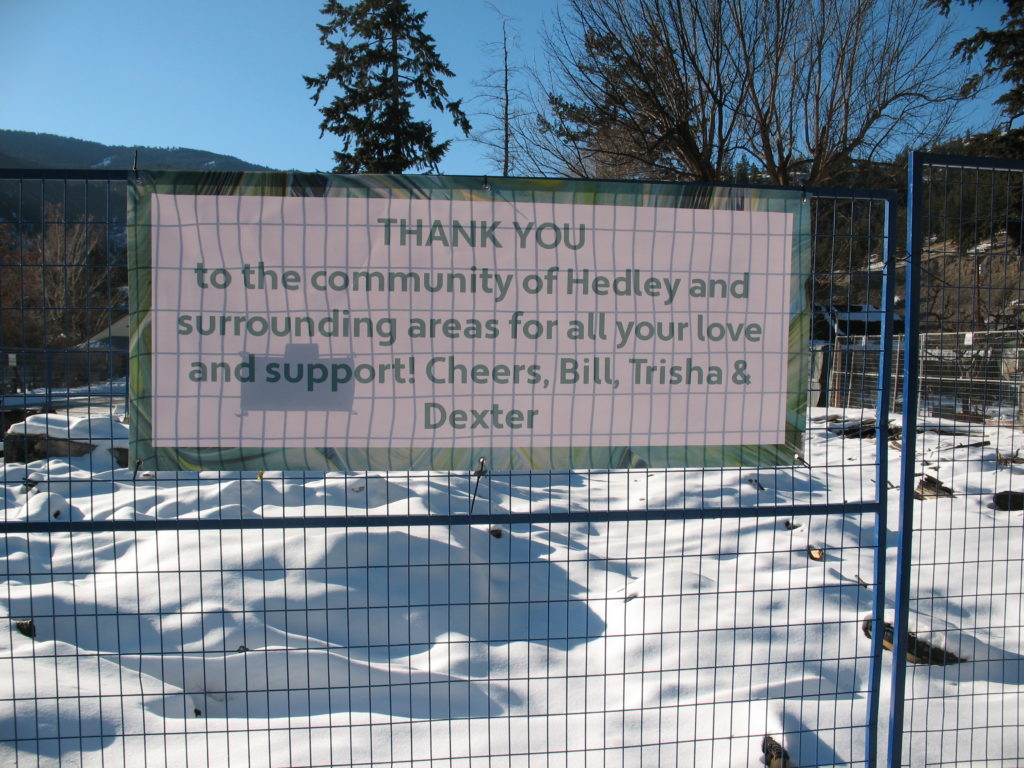 In spite of this huge setback, both are surprisingly upbeat. They are grateful for the considerable financial support received from the Hedley community and others. Also, for visits to Bill when he was in the Penticton hospital.
Will they rebuild the restaurant? "It will depend on our mobility," Trisha said. "We miss the peace and quiet of Hedley and want to come back."
"There's a lot to consider," Bill added. "We hope to rebuild, but we won't be able to recreate the Hitching Post experience. Whatever happens, we're in it together. Our situation isn't insurmountable. We're taking small steps toward a strong future."
The post Will Hitching Post Restaurant Rise From Ashes? appeared first on Living Significantly.
Source:: Living Significantly